Off to Stanford we go!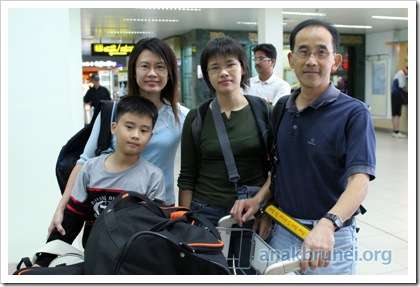 Yesterday while sending my old buddy Louis off at the airport, I met Charlene Bong and her family who were off to California where Charlene is due to begin her studies in Physics at
Stanford University
. Her dad (who's a fellow St.Margaret's Alumni) and I are friends and I could see the joy in his eyes when I spoke to him. I couldn't help feeling so proud of her for being the first Bruneian scholar to be awarded a scholarship to study in the US by
Brunei Shell
.
Her long list of accomplishments include representing Brunei in the Asian-Pacific Children Convention in Fukuoka, Japan in 2000, SEAMEO Maths Olympiad in Penang in 2005, and the International Physics Olympiad in Singapore in 2006.
Charlene was first featured in the Borneo Bulletin in 1989 for being the first baby to be conceived in Brunei through the IVF treatment. Charlene is one of the earliest IVF (test-tube) babies born in Borneo and her birth in December 1988 at Panaga Hospital was particularly significant at that time.