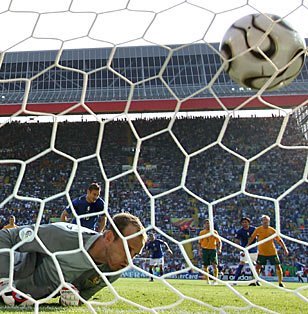 27jun06
AUSTRALIA had made it onto soccer's world stage despite its 1-0 loss to Italy, Football Australia chief executive John O'Neill has said. Speaking from Germany, Mr O'Neill said the Socceroos were devastated by their loss.
"We are really gutted. Sport can be very cruel, but today it was excruciatingly cruel," he said on Channel 7. "The dressing room was incredibly sad, lots of tears."
But Australia had proved itself to the world, he said.
"We are the great over-achievers. We came here as a lowly ranked team, lucky to make it in the eyes of the world, but the world has taken notice, big time, of what Australia has done.
"There was not a team that we have played who was demonstrably better.
"The boys have done us proud, we are immensely proud of them. We deserved the quarter final spot but it just didn't happen."
Mr O'Neill said there was still widespread support for Lucas Neill, who was responsible for a last minute penalty kick for Italy.
"He has really been man of the match in most of their games and today it is not Lucas Neill's fault by any stretch of the imagination."
Prime Minister John Howard said today he is brokenhearted at the Socceroos' loss.
"It's a very cruel way to lose, right on the knocker like that, but the team just played so bravely the whole match," he said.Australia had dominated the game for large periods but failed to score, but with just seconds left to play, Italy's Fabio Grosso went down in the penalty area after a challenge from Neill.
Referee Luis Medina Cantalejo immediately pointed to the spot and the penalty was converted by Francesco Totti.
"It was a very bad way to go out," said Australia captain Mark Viduka after the game.